1 week to go!
28 Feb 2017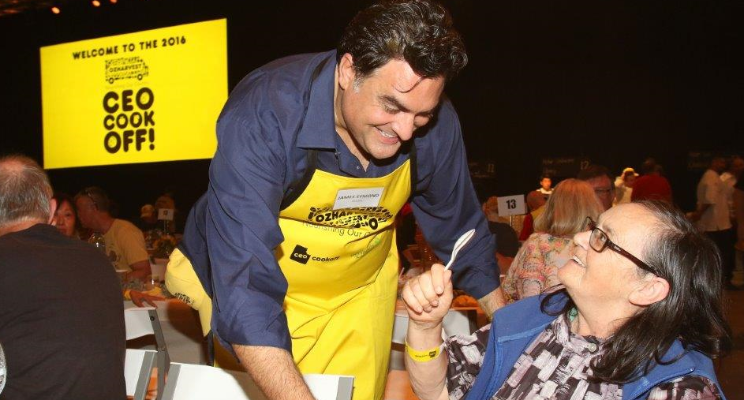 Over one hundred CEOs and business leaders will swap making deals for creating meals for a thousand vulnerable Aussies as they team up with Australia's top chefs at OzHarvest's flagship fundraiser, the CEO CookOff at the Cutaway, Barangaroo on Monday, 6th March.
With a massive fundraising goal of $2million, OzHarvest hopes to raise crucial funds to help deliver over four million meals to people in need. OzHarvest CEO and Founder, Ronni Kahn said homelessness, hunger and food waste are all big issues that need strong corporate leadership and unwavering support from the Australian business sector.
"The CEO CookOff is a charity fundraiser like no other. It gives business leaders the chance to break bread and share a meal with some of the most vulnerable in our community. It's an equaliser and a connector and it has a profound effect on everyone involved."
"It's devastating to think we have enough food to feed everyone, yet 2 million rely on food relief each year. Many have fallen by the wayside due to tragic events or circumstances beyond their control, but should still be treated with dignity and respect. That's what OzHarvest provides," said Ronni.

Women's refuge, Lou's Place is one of the many charitable agencies who receive nutritious food on a weekly basis from OzHarvest. Lou's Place CEO, Margaret Crowley said the event leaves a lasting impact on our clients.

"Our women return from the CEO CookOff with extraordinary elation from the food, the company and the kindness of those who serve them. The whole experience uplifts the spirits of these worthy women," Margaret said.
Top chefs on the night include Matt Moran (ARIA), Neil Perry (Rockpool Group), Peter Gilmore (Quay), Guillaume Brahimi (Guillaume), Dan Hong (Mr Wong), Paul Carmichael (Momofuku Seiobo), Dan Pepperell (Restaurant Hubert), Adam Liaw (SBS) and Jacqui Challinor (Nomad). The event will be hosted by 2Day FM's Rove McManus and Sam Frost.
BP have come on board as presenting partner for 2017, helping OzHarvest stage the annual event, create positive change in local communities and give back in a meaningful way.
President of BP Australasia, Andy Holmes and Managing Director, BP Exploration and Production, Claire Fitzpatrick have both signed up as a participating CEOs to put their culinary and fundraising skills to the test.
"It's a privilege to be part of this special event and an important reminder we can each play a part in helping people experiencing homelessness and hunger. For close to 100 years, we have provided energy in Australia and now we are proud to support OzHarvest as they nourish and energise communities across the country," said Andy.
Everyone can help OzHarvest reach their $2million goal by making an individual donation direct to the CEO CookOff total, or by donating to a registered CEO or Chef. Click on donate now at www.ceocookoff.com.au. Every dollar donated allows OzHarvest to provide two meals to people in need.


Event details
What: OzHarvest CEO CookOff
When: Monday, 6 March 2017
Time: CEOs arrive 5.00pm, guests arrive 6.00pm to 9.00pm
Where: The Cutaway, Barangaroo Reserve, enter at Hickson Rd and Nawi Cove entrance