What is the CEO CookOff event?
The OzHarvest CEO CookOff is a magical event in the lives of vulnerable men and women in Australia. At the CEO CookOff event held in Sydney, we feed and entertain over 1,100 people in need, while providing an opportunity for Australia's top bosses - including CEOs, Managing Directors and Senior Business Leaders - and staff to lead by example in service to vulnerable Australians. In the lead up to the event participants are expected to raise funds in support of OzHarvest. It's a healthy competition among the business leaders who are often a naturally competitive bunch. Our collective goal this year is to raise a minimum of $2,000,000!
At the CEO CookOff the participants are grouped into teams and paired with celebrated chefs from Australia's top kitchens. Each team prepares a meal under the guidance of their chef and serves up those beautiful meals to our wonderful guests – the vulnerable men and women who are members of the OzHarvest family. As a participant you are encouraged to share the meal with our guests and connect with a community that you would not often have an opportunity to break bread with.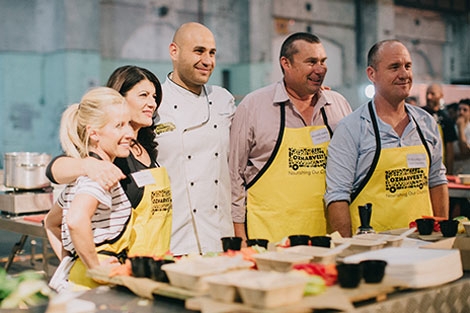 Who can participate in the OzHarvest CEO CookOff event?
CEOs, Managing Directors and Senior Business Leaders can register to attend and participate in the OzHarvest CEO CookOff event, taking place on Monday, 6 March 2017 at 5:00pm at The Cutaway, Barangaroo.
If a CEO or Senior Business Leader is unable to attend the event, companies can still register your company to take part in company fundraising activities.
What is the fundraising target in 2017?
In 2016, we raised over $1.6 million. Our 2017 fundraising target is $2 million to support OzHarvest's purpose to Nourish Our Country through food rescue, nutrition education and hospitality training for disadvantaged youth, and community engagement programs.

Why should I get involved? Why is it important?
The OzHarvest CEO CookOff offers a wonderful opportunity to connect with celebrity chefs, CEOs, Managing Directors and Senior Business Leaders from across all industries and with volunteers, VIP guests and media.
Participants at the CEO CookOff event, together will help provide delicious meals to 1,100 vulnerable, disadvantaged or homeless Australians. Funds raised will support OzHarvest's work feeding Australia's homeless and disadvantaged via food rescue programs, and also responding to the critical food wastage issues facing society:



Is my CEO CookOff Registration and Participation Fee Tax Deductible?
If you are participating in the event or fundraising on behalf of your company, the amount paid is fully tax deductible.
Do I need to know how to cook to participate in the CEO CookOff event?
No! The cooking component of the evening is all about teaming up celebrity chefs with CEOs and Senior Business Leaders to cook for guests from the charities that OzHarvest delivers food to daily. Our invited dinner guests include homeless people and disadvantaged Australians - vulnerable men, women and children doing it tough. Your celebrity chef will guide you through the cooking process.


Do I need to fundraise?
Absolutely! OzHarvest's goal this year is to:
deliver 15 million meals to those in need from food that would otherwise go to waste.
transform the lives of more than 50 disadvantaged youth who join our NOURISH programme by graduating with a Cert II in Hospitality – and help them find employment and support them on their journey.
roll out more than 500 NEST programmes this year delivering life skills and nutrition education to thousands of vulnerable people across Australia.
continue to share our model globally in 2017.
Through your participation in the CEO CookOff and your reaching out to your network to support the work that we do we will achieve our goals!
We ask you to set a great, big, enormous goal of raising $10,000 which means you can sleep so well at night knowing that you have enabled us to do all of the truly amazing things above!


How do CEOs or Senior Business Leaders get involved?
Click the 'REGISTER' button on this site (or just click here). You'll then be asked to create a profile page to commence fundraising. To complete a profile page you will need:
a personal mini-bio and description of your organisation; and
a profile picture or company logo
You will also be prompted to pay a registration fee of $1,500 for early bird registrations up until December 31, 2016 or $1,800 after the cutoff date, to attend the Sydney event.
If a member of your Senior Executive Leadership Team is unable to make the event on 6 March, you can still register your company to take part in company fundraising activities. Find out more about taking the Company Challenge here.
Company registrations will attract a $500 registration fee. Payment can be made by credit card online, EFT or via bank cheque. Call 1800 108 006 to find out how to make an electronic funds transfer (EFT).
Where will the CEO CookOff events take place?
Our 2017, Sydney event will again take place at stunning The Cutaway, Barangaroo.

What do I need to do on the night?
If you are attending the event, there will be a number of activities for participants to partake in on the evening. Groups of approximately five CEOs will partner with a celebrity chef and under their guidance, cook for approximately 30-40 people. Participants will be asked to assist with the preparation of meals and service of food for dinner guests.
An important aspect of the event is dining and sharing a meal with our guests – vulnerable, disadvantaged and homeless Australians attending the event.
What time must I arrive on the night?
CEOs and participants arrive at 5.00pm.
Can I still be involved if I can't attend the event?
Absolutely! You and your company can still take part by fundriasing for OzHarvest and helping us reach our goal of $2 million (that's 4 million meals we can deliver!) Raise $10,000 or more and you can send a staff member along to cook at the event!
Find out more about how your company can get involved here and register today!
How can staff members get involved?
Staff members can help their company's fundraising efforts by joining their company's team and becoming a company champion. Staff can set up their own fundraising page and collect donations through it to help your company reach its target. Get your staff involved by putting the call out for a company bake sale or an internal CookOff. We'll be providing you with a fundraising toolkit with lots of ideas on different ways to engage your staff.

What does OzHarvest do?
OzHarvest is the first perishable food rescue organisation in Australia collecting quality excess food from commercial outlets and delivering it, direct and free of charge, to more than 900 charities providing much needed assistance to vulnerable men, women and children across Sydney, Adelaide, Brisbane, Canberra, Gold Coast, Melbourne, Newcastle and Perth as well as regional areas through their REAP food rescue program.
With a purpose to Nourish Our Country, OzHarvest is a leader in addressing food security and education through their innovative nutrition education sustenance training program NEST, hospitality training program Nourish assisting vulnerable Australians and disadvantaged youth and through community engagement activities.
The innovative food rescue organisation tackles global food waste and is the official partner of the United Nations Environment Programme (UNEP) and United Nations Food & Agriculture Organization (UNFAO) Think.Eat.Save campaign and was awarded the 2013 United Nations' World Environment Day Community Award.
Every $1 donated allows OzHarvest to deliver two meals.
Find out more on OzHarvest at our website.
Ready to register?
Great, we're waiting for you!